Functional Shapes (FShapes) for Morphometric Analysis of Osteoarthritis: Collaboration with Center for Imaging Science Yields New Insight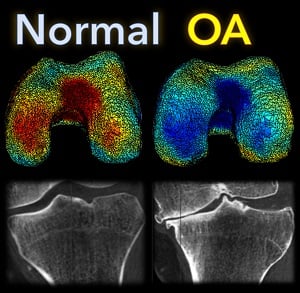 A new paper by Nicolas Charon (Assistant Professor, Center for Imaging Sciences and Applied Mathematics and Statistics at Johns Hopkins University), Asef Islam (undergraduate student in Biomedical Engineering at Johns Hopkins), and Wojtek Zbijewski (Assistant Professor in Biomedical Engineering at Johns Hopkins) investigates the feasibility of using the recently introduced framework of functional shapes (FShapes) to reveal  morphological features of knee osteoarthritis (OA).
The concept of FShapes is promising for applications in OA because it provides a rigorous mathematical framework to simultaneously model the population variability in bone shape – here, the tibial or femoral articular surface – and in a function defined on that shape – here, a map of local joint space width at each point of the surface. Considering that articular degeneration is the hallmark of advanced OA, this approach might, for example, yield new insights into interactions between certain morphological bone variants and development of joint space loss.
The study used a set of three-dimensional knee scans of patients with and without OA. The scans were obtained using a novel weight-bearing extremity Cone Beam CT (CBCT) system at Johns Hopkins. After extracting tibial surface meshes from the CBCT images, each surface was equipped with a joint space map (JSM) using an algorithm based on an electrostatic model of the intra-articular space (previously developed at I-STAR). An atlas estimation procedure in the setting of large diffeomorphic deformation metric mapping (LDDMM) was then applied to obtain a template representing a mean shape and a mean JSM, together with variables that model the shape and JSM transformations from the template to each subject in the dataset. Therein lies another potential advantage of this approach: it is landmark-free because the diffeomorphic transformation model does not require a priori point correspondences between the subjects.
In a preliminary validation study, a support vector machine classifier was applied to the template-subject transformations to find discriminative features associated with OA.  The correct classification scores were 85% – 91%, depending on which components of the FShape (shape+JSM, only shape, only JSM) were used. The discriminant directions revealed by this analysis were consistent with prior studies of OA: including medial joint space loss and deepening of the tibial plateau.
The functional shape methodology is a promising new tool for landmark-free morphological analysis in OA and other orthopedic applications where bone shape and alignment are simultaneously involved, ranging from joint disease to fracture healing.
(Link to paper) Nicolas Charon, Asef Islam, and Wojciech Zbijewski, "Landmark-free morphometric analysis of knee osteoarthritis using joint statistical models of bone shape and articular space variability" J. of Medical Imaging, 8(4), 044001 (2021)